Creating and sharing a calendar
Creating and sharing new a calendar using Office 2010 & 2013
You can skip steps 1 – 4 if you are going to share an existing calendar.
Step 1: With Microsoft Outlook opened and in the Calendar view, make sure the "Home" tab is selected on the ribbon:

Step 2: On the ribbon find the "Open Calendar" option and click, then choose "Create New Blank Calendar"

Step 3: Give the calendar a name, and verify that the "Folder Contains" field is set to "Calendar Items" and in the "Select where to place this folder" section, make sure you expand your mailbox (usually your e-mail address) then select "Calendar" as shown below: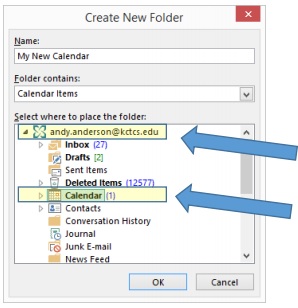 Step 4: The new calendar will appear in the list of calendars under the "My Calendars" section on the left in the Outlook calendar view: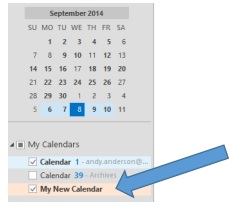 Step 5: Right-Click on the calendar you just created (of if you are sharing an existing calendar, Right Click on that calendar). From the pop-up menu point to "Share" and then select "Share Calendar"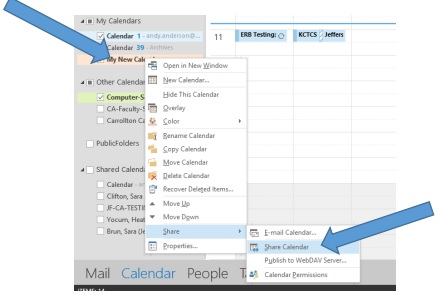 Step 6: Your sharing invitation will open, and allows you to do several things. First fill in the "To…" field with the e-mail addresses of the people you wish to share the calendar with. If you are sharing the calendar as "Read-Only" then you can leave the "Recipient can add, edit, and delete items in this calendar" box unchecked. If you need the people you are sharing with to be able to add, edit or change appointments in this calendar, you will check this box.
Step 6 for creating a shared calendar in Outlook 2010 and 2013
Step 7: You can type a custom message in the lower section to share any information about the invitation – or leave it blank. Click on "Send" to send the invitation to the users. You may get a warning dialog box similar to the one below confirming that you want to give Editor Permissions – confirm by clicking "Yes".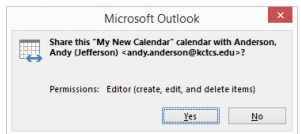 Step 8: The person receiving the invitation will need to use the "Open This Calendar" option in the sharing invitation they receive to open the calendar in their Outlook Calendar view. See Below: