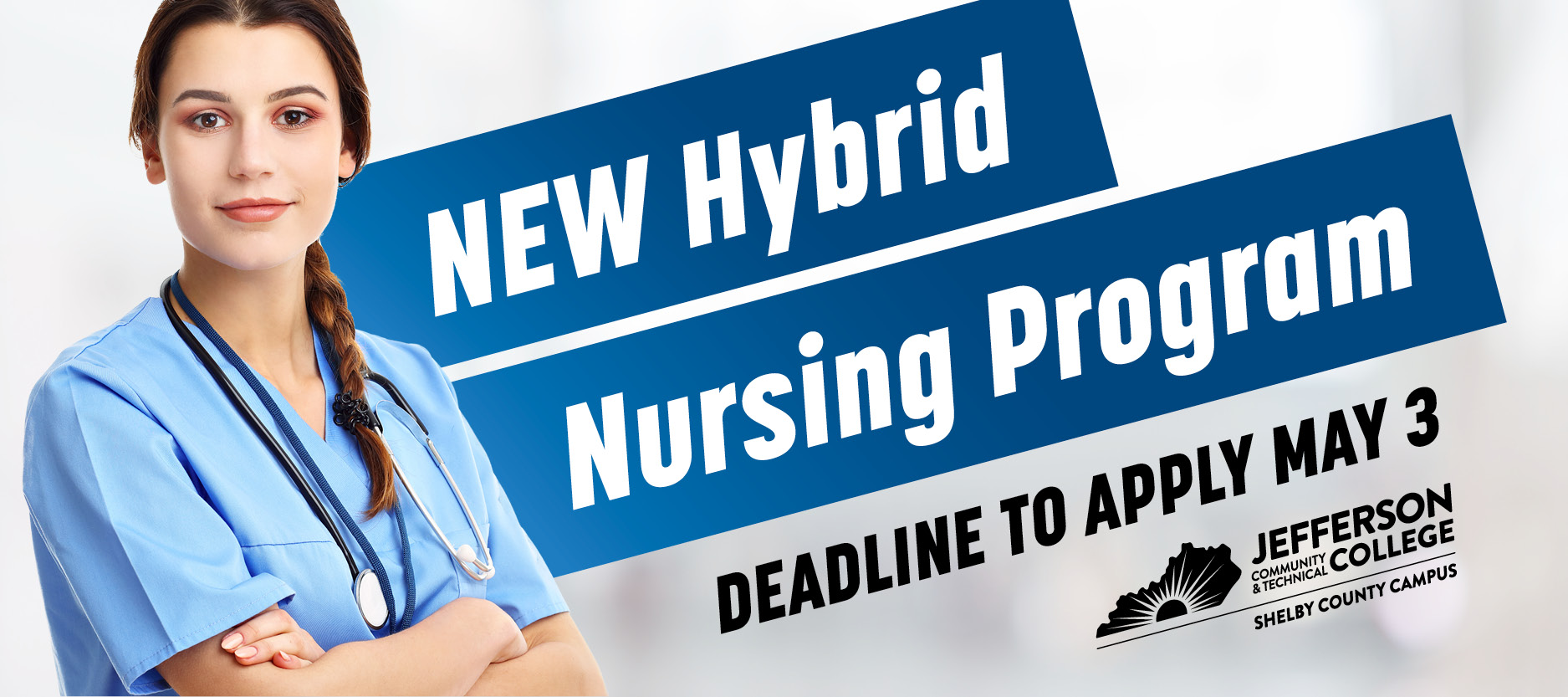 Shelby County Campus Nursing Program
The new associate degree in nursing program at Jefferson Community and Technical College's Shelby County Campus will give students the opportunity to take labs/clinicals two nights per week with lectures online through a hybrid format.
Where: Shelby County Area Technology Center
When: Fall 2021
What: Associate Degree of Nursing (RN) Program
Hybrid format; online lectures, in-person lab/clinical
Lab and clinical will be scheduled in the evening or on weekends. Some clinical experiences will have to be during the day. We will limit these as much as possible.
Admission Requirements:
Take NLN PAX-RN
(minimum composite score: 105; minimum verbal percentile: 50)
Attend a pre-admission conference (Mandatory) Register Here
Have active standing on Kentucky Board of Nursing State Registered Nurse Aide (SRNA) or take HST 104 at JCTC
BIO 137 Anatomy & Physiology I (completed in the last 10 years) with a grade of C or better
PSY 110- General Psychology
Math at AA or AS Quantitative Reasoning or higher (MAT 146, MAT 150, etc) with a grade of C or better
Cumulative Nursing GPA of 2.75 or greater
Program Courses and Co-Requisite Courses
First Semester
NRS 101 - Nursing Care I (9 credit hours)
*BIO 139: Anatomy & Physiology II (4 credit hours), within 10 years, Grade of C or better
Second Semester
NRS 102 - Nursing Care II (10 credit hours)
* ENG 101: Writing I (3 credit hours)
Third Semester
NRS 203 - Nursing Three (9 credit hours)
*BIO 225: Medical Microbiology (4 credit hours), within 10 years, Grade of C or better
Fourth Semester
NRS 204 - Nursing Four (10 credit hours)
*Heritage/Humanities (3 credit hours)