Heritage Creek Mayor, 73, to Become First in Family to Earn a College Degree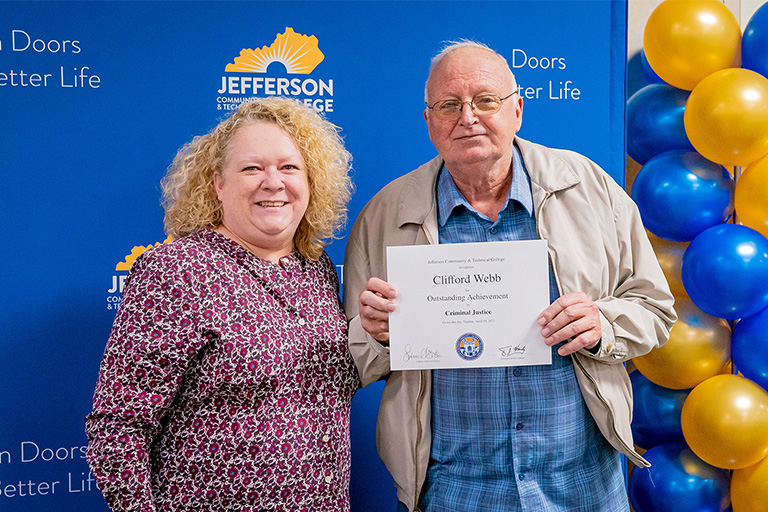 There are plenty of reasons to pursue higher education, and no matter your 'why,' Jefferson is here to open doors to a better life.
Clifford "Larry" Webb found his 'why' even at a point in life when most would consider themselves done with formal education.
Webb retired in 2011 after a 37-year career as a Kroger produce manager but stays busy in retirement by serving as mayor of Heritage Creek, a city in the south end of Jefferson County.
But he knows you're never too old, and it's never too late to learn.
At 73 years old, Webb is a student at Jefferson, pursuing an Associate of Arts in Criminal Justice. He started taking classes in 2018 to learn more about the job his police officers do. He earned his criminal justice certificate last year, and now just three classes separate him from a degree.
As a bonus, when he graduates in December, Webb will become the first in his family to earn a college degree. It's a significant accomplishment for Webb, who dropped out of high school his senior year to get married and obtained his high school diploma just months before starting at Jefferson.
Even while balancing school, his mayoral duties, and campaigning for another term, Webb still maintains a 4.0 GPA. In April, he was honored with a Student Success Award for his academic excellence.
His secret to his success? Grit, he says.
"It doesn't make any difference how old you are. You still learn," said Webb. "Keeps your mind going and gives you something to do, gives you something to look forward to. Just don't give up. You can do it. Press forward."