Jefferson Student Shines Bright at SkillsUSA Championships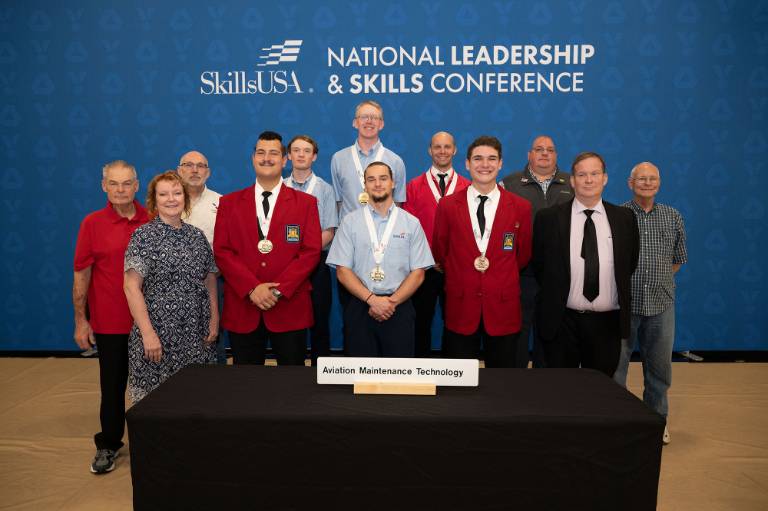 A Jefferson Community and Technical College student put his skills to the test last month and proved he's one of the country's top Aviation Maintenance Technology students.
Bryan Hunt won a bronze medal in his field of study at the SkillsUSA Championships. He earned a spot in the national competition after placing first in the Kentucky SkillsUSA competition in April.
Hunt also earned a Skill Point Certificate for demonstrating proficiency and workplace readiness in Aviation Maintenance Technology.
"He is one of our best, and we are all extremely proud that he represented Jefferson in this contest. There is no doubt that Bryan has a bright future ahead of him, and we are pleased that he has chosen Jefferson to help build that bright future," Dallas King, Aviation Maintenance Technology program coordinator, said.
The SkillsUSA Championships is held annually in conjunction with the SkillsUSA National Leadership and Skills Conference hosted this year in Atlanta. Thousands of students are invited to demonstrate their technical, workplace, and personal skills in over 100 hands-on competitions.
The Aviation Maintenance Technology competition included a written task and 11 separate hands-on tasks to gauge a wide range of AMT skills.
"The experience helped me further identify my job skill strengths and weaknesses so that I can be a better aviation mechanic (AMT) in the future," said Hunt, adding that the competition was a fun experience.
Hunt plans to graduate in December and looks forward to the career possibilities once he earns his degree.
"The industry currently has endless opportunities for AMTs due to the shortage of mechanics. Everyone (airlines, cargo, regionals, small mechanic shops) is hiring right now. The only limits are self-imposed ones," he said.
Hunt says he's thankful to Aviation Maintenance faculty, Glenn MacQueen, Lauren Filmore, and program coordinator Dallas King, as well as Tabitha Bottoms from Somerset Community College for being helpful as his "inherited cosmetology advisor" during the competition. Hunt is also grateful for his wife's unwavering support and credits his family for instilling a love of aviation since birth.