CARROLLTON, KY For the past several years, Jefferson Community and Technical College has been working to secure land and funding for a much needed new Carrollton campus.
A vote by the Cardinal Hill Healthcare System Board in April brought obtaining the land one step closer.
The current campus has outgrown leased space in a former downtown department store and has plans to construct a $14 million, 40,000 square foot dedicated campus in the county. Campus enrollment has grown 322 percent in 5 years.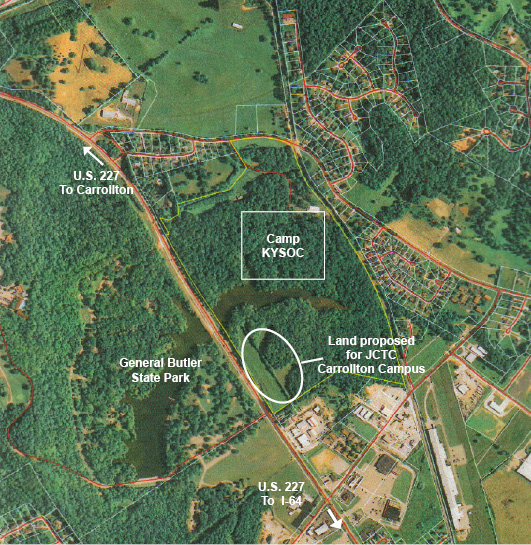 Twenty-five unused acres along U.S. 227, across from General Butler State Park, proved to be an ideal location and negotiations have been under way for several years. The project has strong support from the community, including Judge Harold Shorty Tomlinson.
In early April, the board of Cardinal Hill Healthcare System, which currently leases the 25 unused acres from the Kentucky Parks System, along with adjacent land about 90 acres -- for the Kentucky Easter Seals Society s Camp KYSOC, agreed to relinquish the lease. While there are many more steps to take before it is final, the vote opened the door for the college to obtain access to the property. The college will not take over the lease. As a state entity, it will, in effect, own the 25 acres.
While the college was interested only in the 25 acres and requested access to only that property, Cardinal Hill also relinquished the lease to the Camp KYSOC property. Up until the board vote, no decisions had been about the camp itself. The decision to relinquish the lease on the camp property and to close the camp was solely that of the Cardinal Hill board and was not related to the college's interest in the adjacent property.
Currently language that would authorize the college access to the property is pending in the state budget bill, which failed to pass during General Assembly s regular session. It is expected in a special session.
When final, the college will have access to only the 25 unused acres. The remaining property, which contains Camp KYSOC, will revert to state control.
As for capital funding, three times the campus building has been included in state planning, only to fall victim to tight budgets late in the processes, largely because land for it had not yet been secured. The project once made it to the governor's desk, but was vetoed. Last year it was included in the state s contingency budget, among projects that were approved but needed funding. The project, however, continues to receive broad support in the legislature and community.
JCTC Carrollton Campus serves students in associate degree programs that transfer to four-year programs and offers programs in practical nursing, industrial engineering technology and information technology. The campus also works with business and industry in education and training programs, operates the area's Adult Education and family literacy programs, as well as conducts ACT and employment testing.