Rotary Club of Louisville hits $2 million mark in scholarship campaign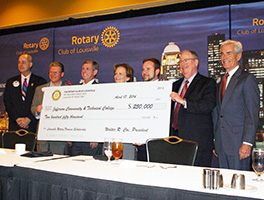 On Thursday, Rotary Club of Louisville presented Jefferson Community & Technical College with a check for $250,000, marking a $2 million milestone in the campaign to provide free college educations to students at four area high schools.
Rotary s ultimate goal is to raise $4 million. However, the club celebrated the critical halfway mark with a ceremony during the club's weekly luncheon at the Galt House. Dr. Michael McCall, president of the Kentucky Community and Technical College System accepted the donation on half of JCTC.
The Louisville Rotary Promise Scholarship, which was created to mark the 100th anniversary of Rotary Club of Louisville, was launched at Western High School in Fall 2012, and at Iroquois High School in Fall 2013. Students in each freshman class pledge to earn at least a 2.5 GPA, maintain 90 percent attendance, and have good behavior through their senior year of high school.
In exchange, these Louisville Rotary Promise Scholars can attend JCTC tuition free for two years, allowing them to earn an associate degree.
Rotary Club of Louisville began raising money in late 2010. The Kentucky Community & Technical College System Foundation Inc. matched those donations dollar for dollar. Reaching $4 million will allow the club to expand the program to four schools.
Our goal was to create an endowed scholarship that represents a major milestone in Louisville's quest to educate its residents for a better life, said Rotarian Henry Heuser Jr., who helped create the Promise Scholars program. The program is intended to be motivational, encouraging students to stay in school and meet high academic standards, in exchange for receiving the much needed financial means to attend college.
In addition, Rotarians volunteer their time at the schools to mentor and support students.
The schools were selected in partnership with JCPS and were designed to help traditionally underperforming schools develop college-going cultures, in part by removing tuition as a barrier.
In a complementary program announced in the fall, students who transfer to the University of Louisville will receive $10,000 over two years from U of L to help complete a bachelor's degree.