FAQs for Employees
Adjunct account information
Adjunct account duration:
Adjuncts will have active accounts as long as they are assigned to a class either in the current or a future term. You can add them as a secondary instructor of a class to keep their accounts active.

If an adjunct is not assigned to a class after the current semester, their account will remain active for two weeks after the end of the term. So should an instructor be deactivated, but then attached to a class in PeopleSoft within the 60 days of the end of last term, their mailbox contents will remain. Past the 60, the mailbox will be empty.
Adjunct account creation:
If a new adjunct needs to be setup and they have never worked for KCTCS an EMPL ID will need to be assigned then they will need to be setup in the Instructor/Advisor (I/A) table and finally assigned to a class. If you are responsible for setting up the instructor in the I/A table make sure to date the entry at least a week before the semester starts. The helpdesk can take care of getting the EMPL ID.

The accounts cannot be setup without the following information:

instructors legal name
home address
home phone
SSN
Personal email address and
Birthdate
Anti-virus software
If you need a copy of an antivirus package for home use Microsoft Security Essentials is recommended. It is a free program and is very capable. Download the software at
http://windows.microsoft.com/en-us/windows/security-essentials-download
Microsoft Products at a discounted price
Home use only
: Employees can purchase a single copy of Microsoft Office at a discounted price under the
Microsoft Home Use Program
. Employees and students can get a copy of the current version of Windows at a discounted price at
http://tinyurl.com/6vd4ozy
.
If you need to purchase additional copies of Microsoft Office or other Microsoft Software you can do so at the Journey Ed Website. The Journey Ed store also offers academic pricing for other software products from companies such as Adobe, Corel, and Avid Technology.
Current Employees can install Office 365
Employees have access to Office 365 similar to students. KCTCS restricted this to employees with PeopleSoft access above employee self-service. They are aiming to give all employees access sometime in the next year. Office 365 allows qualifying employees to download up to 5 copies of Office for installation on non-college computers or devices.
If you having problems activating or logging into Office 365 please try registering at http://office.com/getoffice365. Click on the Find out if you re eligible link for students.
These copies of Office are tied to employment.
Install Office on your PC or Mac:
Sign into your KCTCS email
Click the gear icon beside your name at the top right, then choose Office 365 Settings
Under the Office heading, click Install
When prompted to save or run the application, choose Run
Follow the on screen prompts to install Office
After Office is installed, if prompted to log in, use your KCTCS email address and password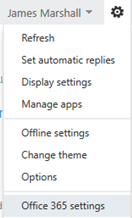 Install Office on your Apple or Android device:
Download the Office Mobile app from the app store
Open the app and sign in with your KCTCS student email and password
E-mail distribution lists for Employee use
JF-FACULTY-ALL@kctcs.edu:
Dynamic list generated based on title being either Faculty or Instructor. List includes both regular faculty and adjuncts
JF-STAFF-ALL@kctcs.edu: Dynamic list generated base on title being Staff Includes all regular, part time employees and student workers.
JF-DT-ALL@kctcs.edu: All regular employees on the DT campus. Manually maintained by the Technology Solutions Helpdesk
JF-SW-ALL@kctcs.edu: All regular employees on the SW campus. Manually maintained by the Technology Solutions Helpdesk
JF-JTC-ALL@kctcs.edu: All regular employees on the TECH campus. Manually maintained by the Technology Solutions Helpdesk
JF-Carrollton-ALL@kctcs.edu: All regular employees on the Carrollton campus. Manually maintained by the Technology Solutions Helpdesk
JF-Shelbyville-ALL@kctcs.edu: All regular employees on the Shelby County campus. Manually maintained by the Technology Solutions Helpdesk
JF-Bullitt-ALL@kctcs.edu: All regular employees on the Bullitt County campus. Manually maintained by the Technology Solutions Helpdesk
JF-College-ALL@kctcs.edu: Consists of all the campus lists. List does not include students, adjuncts or student workers.
MASS EMAILS TO STUDENT ACCOUNTS: Anything that needs to be sent to the student distribution list MUST be submitted to the Technology Solutions helpdesk. Emails going to students must be approved by the PR/Marketing office before we can send out the email.
E-mail account duration
As long as you are being paid by KCTCS you will have access to your KCTCS email account. Once you have been terminated by HR your account will be deactivated and your access to your email will be removed.
E-mail - Personal or home
We encourage students and employees to have a personal/home email address listed in PS if possible. It gives the helpdesk an option for contacting an individual if they are having problems with their KCTCS account. Employees can update this information in HRMS
https://employees.kctcs.edu
For name changes, Employees will need to contact HR.
A Preferred Name with a different last name must be set in order for PeopleSoft to trigger the username to update.
E-mail policies and guidelines
These are some guidelines for the appropriate use of the campus email distribution lists. Please consult this information before sending an e-mail to ensure that the e-mail system will work efficiently for everyone. Most of these policies can be found on the
KCTCS Intranet
!
Employee Distribution Lists: These distribution lists can be used by employees. Anything that needs to be sent to the student distribution list MUST be submitted to the JCTC Technology Solutions helpdesk
Employee E-mail Policy: KCTCS employees have an obligation to use their access to the Internet and e-mail in a responsible and informed way, conforming to network etiquette, customs, courtesies, and any or all applicable laws or regulation
General E-mail (with or without attachments) advice: General E-mail advise for sending E-mails with or without attachments
Unacceptable E-mail Use Policy: Use of KCTCS e-mail resources is a privilege that may be revoked at any time for inappropriate conduct. Any abuse of acceptable use policies is considered gross misconduct and may result in revocation of access, notification of KCTCS management, and disciplinary action up to and including dismissal.
E-mail Quotas
The quota limits are put in place by KCTCS and cannot be increased. If you run out of room in your email account you will need to create a personal folder that you will need to move your email into.
Steps for creating personal email folders:
Open Outlook
Click on File from the menu bar
Click on New from the File menu
Click on Outlook Data file
Highlight Office Outlook Personal folders file (.pst)
Click OK
Give the file a name or leave as the default name and click OK
Click on OK to complete the Creation of the personal folder
You should see the personal folder on the left side of Outlook.
E-mail setup on mobile device
Step-by-step instructions for configuring your KCTCS email on a mobile device.
The link above may not work in Firefox.
On Android you need to change the Phase 2 authentication method to MSChapV2 the EAP method is PEAP (should be detected by default) depending on your variation of Android the Identity should be your username or KCTCSACC\ and your username.
Technology Solutions is not responsible for configuring your personal devices.
Name change or username is incorrect
If you have a name change or if your email address/username is incorrect this must be corrected in
PeopleSoft (PS)
. You will need to
log into HRMS
under "Personal Details".
You will need to contact HR and have the Primary name changed and have a Preferred name added or updated. Only a last name change will trigger a new username to be generated.
Normally it takes about 24-48 hours (excluding weekends and holidays) for the new username to be generated. For the changes to occur within the email system and to propagate to Blackboard normally takes several days. Once the change has been completed you can contact the helpdesk requesting a change to your email account.
Phishing E-mails
Phishing emails (more information at
http://en.wikipedia.org/wiki/Phishing
) are a fact of life on the Internet. Most of the common ones are asking for your login information because your email quota has been exceeded. These messages are normally coming from outside of KCTCS.
You can always contact the helpdesk if you are not sure.
Reset your employee password
There are 2 ways for employees to reset their passwords:
Off or on campus you can go to: https://students.kctcs.edu/psc/stdsaprd/EMPLOYEE/SA/c/K_IDA.K_IDA_UAC.GBL
On campus you can log into any computer with your current password and then press CTRL-ALT-DEL and select Change password
Student Workers
Student workers can use the User Account Center to change their password or, if on campus, they can change their password by logging into a campus computer and pressing CTRL-ALT-DEL.
If a student worker is no longer going to be working for the college, please make sure to separate them. For example, remove them from payroll. This will remove the employee status and allow them to use the normal student tools for activating their accounts. Normally the supervisor would complete the separation form and turn it into HR.
How do I update my address, emergency contact information, or tax exemptions
In the event you need to change your address, update your emergency contact information, or change your tax exemptions - you can do this by visiting the
Employee Self-Service
portal utilizing your KCTCS logon information.
OneDrive for Business
OneDrive for Business is a personal library intended for storing and organizing your work documents. As an integral part of Office 365 or SharePoint Server 2013, OneDrive for Business lets you work within the KCTCS context. OneDrive is secure and private by default and available from anywhere at anytime!
OneDrive for Business is a replacement for Dropbox.
OneDrive for Business gives you 1 TB of space!
The clients are available for download at https://onedrive.live.com/about/en-us/download/. The largest file that OneDrive will allow is 2 gigabytes (gb).
Directions for turning off email forwarding
Log into your KCTCS email account at
https://outlook.com/kctcs.edu
. If you do not know your pass word you will need to go to the
User Account Center
first. Once in your email account look for the gear shaped icon on the upper right hand portion of the page. Click on that then select Options at the very bottom

Once in the Options menu select Forwarding

Then select Stop Forwarding then click on Save (above the word Forwarding )

Share calendar using Microsoft Outlook
Note: Steps are the same for Office 2010. You can skip steps 1-4 if you are going to share an existing calendar.
Voicemail Access
Your voicemail can be accessed in different ways:
Call your office phone number (502-213-xxxx for example). When your voicemail answers, press the * symbol. Enter your extension when prompted for your ID. Enter your PIN when prompted.
You can call 502-213-5338 (502-213-JEFV) to directly access the voicemail system. This will take you directly to Unity Voicemail.
Voicemail PIN reset
If on-campus, please go to the web site
https://voicemail.kctcs.edu/ciscopca/home.do
. Login with your username and current pass word, then select Messaging Assistant , and then look under Passwords.
Clear your saved password in Firefox
Steps for clearing a saved password in Firefox:
Check to see if Firefox saved the login information you can look under Options -> Security then Saved Passwords if there is an entry for sts.kctcs.edu removing that will make Firefox prompt to login.
Clear your saved password in Internet Explorer
Please look at the following link:
http://windows.microsoft.com/en-us/windows7/remove-stored-passwords-certificates-and-other-credentials
Removing any entry for sts.kctcs.edu will make IE and Chrome prompt for a password again.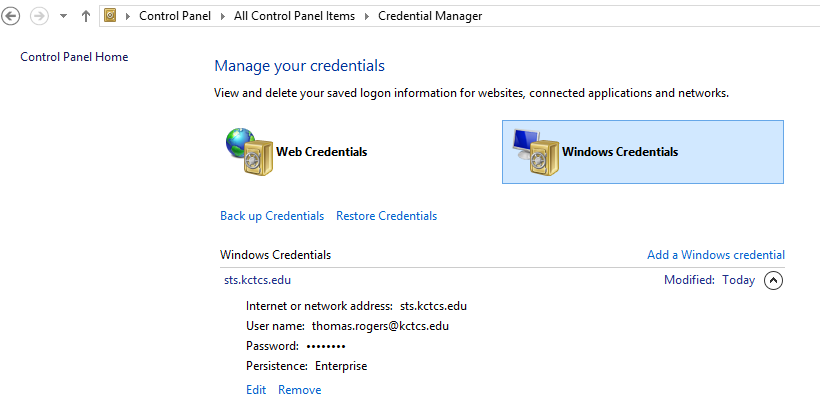 Turn Clutter on or off
Sign in to Outlook Web App
At the top left corner of the page, select the App launcher icon, and then select Mail.
On the top right corner of the page, go to Settings > Options > Mail > Automatic processing > Clutter.
Choose Separate items identified as Clutter, then Save .
Need assistance with Starfish?
If you need assistance using Starfish, please contact Hilary Sortor by email at
hilary.sortor@kctcs.edu
or call 502.213.2344
How to clear cache and temp files
Shortcut to the page for clearing the cache:
Press CTRL-SHIFT-DEL keys at the same time.
Directions for clearing Cache and Temp files.
Internet Explorer:
Open Internet Explorer.
From the Tools menu choose Internet Options.
On the General tab, under Browsing history, click Delete.
Uncheck the Preserve Favorites website data box.
Check the Temporary Internet files, Cookies, and History boxes.
The Form data, Passwords, and inPrivate Filtering data boxes may be left unchecked. You can check them to delete this data if you so choose.
Click Delete.
When finished, click OK to return to your Internet Explorer window.
Close the Internet Explorer window and reopen.
Firefox:
From the History menu, select Clear Recent History. (If the menu bar is hidden, press Alt to make it visible.)
From the Time range to clear: drop-down menu, select the desired range; to clear your entire cache, select Everything.
Next to Details, click the down arrow to choose which elements of the history to clear. You will need to make sure Cookies and Cache are selected but may select other items you would like to clear.
Click Clear Now.
Close the Firefox browser window and re-open the browser.
Chrome:
Click the Menu button (looks like 3 horizontal lines) in the upper-right corner of the Chrome window, choose More Tools and then Clear browsing data.
Select the period of time you wish to delete using the Obliterate the following items from drop down menu. From there, you can choose Cookies and other site and plugin data and the Cached images and files check-boxes.
Click the Clear browsing data button, and Chrome will clear your cache.
Close the Chrome browser window and re-open the browser.
Microsoft Edge:
In the top right, click the Hub icon (looks like three horizontal lines).
Click the History icon (looks like a clock with an arrow around it), and then select Clear all history.
Select Browsing history, then Cookies and saved website data, and then Cached data and files. Click Clear.
After the "All Clear!" message appears, exit the browser and re-open the browser.
How to access Peoplesoft
Faculty or a Student/Employee needing additional functionality beyond Employee Self-Service should also use this link.
Use this if you are an Employee needing only access to Self-Service.
From this link you will be able to view your pay check and leave balances.
OnBase Help and Reference Material
OnBase Help and Reference Materials version 4.2
(For versions 15.0.0.40 and 15.0.2.174
Blackboard issues
If you are having a problem with Blackboard, please
contact Blackboard support online.
Help with using Skype
You can find
directions for using Skype
on our web site.