What is Health Information Technology?
The Health Information Technology (HIT) Program deals with the business side of healthcare. The program prepares you to take an active role in the field of Health Information Management. Graduates will interact with physicians, health professionals, financial and administrative staff as well as outside entities from government, accrediting organizations, and legal systems to ensure the protection of patient information. You will help determine health information budgets, resources and policies, and provide reports/analyses utilizing current and accurate data.
This program is offered at the Downtown Campus of the college, but classroom instruction is remote. This is a 60-64 credit hour program leading to an Associate in Applied Science Degree. The curriculum includes course work in the supporting sciences and general education areas. Classroom instruction is supplemented with in-person learning experiences at area health care facilities.
For more information regarding the Health Information Management profession, please visit the AHIMA website.
Students are required to attend a pre-admission conference for this program.
What are my career options?
Health Information Technicians are employed in hospitals, medical clinics, nursing homes, other health care facilities and industry. Graduates with the AAS degree are qualified to write the American Health Information Management Association's (AHIMA)/Commission on Certification for Health Informatics and Information Management (CCHIIM) Registered Health Information Technician examination and the CCA coding examination.
What are my degree, diploma, or certificate options?
Degree
Certificate
Length of Program
You can earn an associate in applied science degree in two years if you maintain full-time status.
This information should not be considered a substitute for the KCTCS Catalog. You should always choose classes in cooperation with your faculty advisor to ensure that you meet all degree requirements.
Accreditation
The Health Information Management accreditor of Jefferson Community and Technical College is the Commission on Accreditation for Health Informatics and Information Management Education (CAHIIM). The College's accreditation for Associate Degree in Health Information Management has been reaffirmed through 2030. All inquiries about the program's accreditation status should be directed by mail to CAHIIM, 200 East Randolph Street, Suite 5100, Chicago, IL, 60601; by phone at (312) 235-3255; or by email at info@cahiim.org.
Graduates of the program are eligible to take the American Health Information Management Association's (AHIMA) Registered Health Information Technician (RHIT) examination.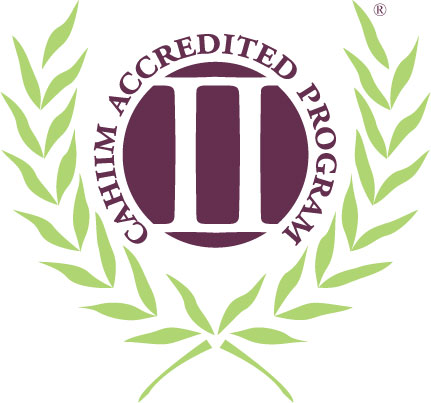 Other information
RHIT EXAMINATION PASS RATES
2021 – 88% student pass rate
2022 – 71% student pass rate
GRADUATION RATE 2020-2021 = 79%
The percentage of a school's first-time, first-year undergraduate students who complete their program within 150% of the published time for the program.
GRADUATE EMPLOYMENT RATE 2020-2021 = 95%
This data is based upon 2019 - 2020 telephonic student surveys, and reported to the accrediting body on the 2019 - 2020 APAR data. The final figure represents data determined based upon response rates to the survey.
RETENTION RATE:
Fall to Fall Retention, 3-Year Trend:
Fall 2020 – Fall 2021 = 86.5%
Fall 2021 – Fall 2022 = 83.7%

The count of students enrolled in the baseline Fall term who returned or earned a Diploma or Associate degree in the following Fall term, divided by the count of all students in the program enrolled in the baseline Fall term.